https://www.youtube.com/watch?v=qDoQPFrcL5U
PP Hospitality results from many faces and families coming together for one purpose. In this company, we see the chance to add a new chapter with every new face. We are built from the inside out, not the top down. We are built from inside the restaurant and out to our communities. Passion represents the power our team brings to the experience every day. Beyond the processes and procedures, it is that passion inside our people that passion helps us drive to be the best. We promise to take care of our people. We are in the service business, and service is about one thing: people. That's why every person is the single most important thing to us. We know each person's importance, and we will always be genuinely appreciative and respectful of each other's role. None of us can truly succeed without all of us. We do not simply want you to succeed in their lives because we know people are indeed what makes this place successful—consciously focusing your efforts on a goal to create ultimate success. When we focus as a team, we become truly unstoppable.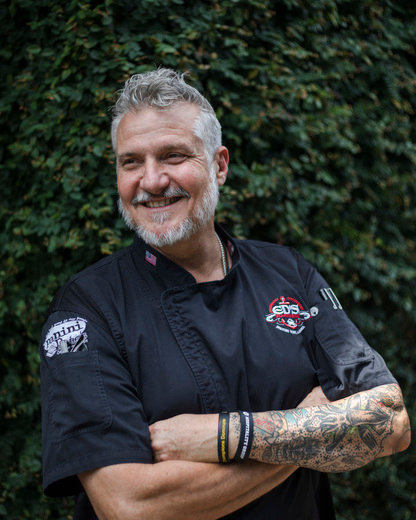 Chef "Panini" Pete Blohme
Owner
Chef Pete Blohme AKA "Panini" Pete currently owns & operates 6 unique PP Hospitality concepts.
Chef Pete is a graduate of the prestigious Culinary Institute of America in Hyde Park, NY and also currently sits on their Alumni Advisory Council. Pete with fellow Alumni Robert Kabakoff founded the "Run for you Knives" Scholarships 5K Race & Walk at the CIA Hyde Park campus. This annual event provides much needed scholarships for current students. Pete has achieved headlines nationwide being featured with Guy Fieri on his Live Road Show performing in 25+ Road Shows and featured on a host of Food Network shows such as Diners, Drive-Ins and Dives, Guy's Grocery Games, Guy's Big Bite and The Great Food Truck Race with Tyler Florence on Food Network as well as CMT's Sweet Home Alabama.
Chef Pete is Member of BCA Best Chefs of America. His proudest accomplishment is in being a Founding Member of "The Messlords" a group of Celebrity Chefs that travel the World boosting moral for our US Troops through culinary training and mass feedings in amazing locations like Japan, Spain, Italy, Africa, Bahrain, Romania, Cuba, Europe, as well as onboard Aircraft Carriers and Submarines!
To keep up with his Panini Pete Adventures you can listen to Pete on his Podcast "The Raw Ingredients"! (www.hotppodcast.com) look for him cooking, hosting or demoing at great events around the country. Recently headlining at the Super Bowl 51 Players Tailgate as well as Nightclub and Bar convention in Las Vegas! Mostly he likes cooking Beignets at Panini Pete's!
Listen to Pete often on this podcast -The Raw Ingredients - listening in on successful chefs, restauranteurs, and hospitality professionals giving their insight and stories on success.
Nick DiMario
Co-Owner
Nick is the operating partner and co-owner of PP Hospitality Group. Nick is the behind-the-scenes man that is the glue of the company. Since his partnership with Pete began in September 2013, he has established a systems-based operational structure within all of the restaurants. Nick is a practice-what-you-preach kind of leader, which we can agree is an exceptional quality. He has spent countless hours coaching the staff, as well as finding opportunities for operational and personal growth. Nick is truly one of a kind – His passion for the restaurant and hospitality industry is truly inspiring.